The latest on Afghanistan: Live updates – CNN
33 min ago
Pope criticizes Western intervention in Afghanistan
From CNN's Hada Messia and Lindsay Isaac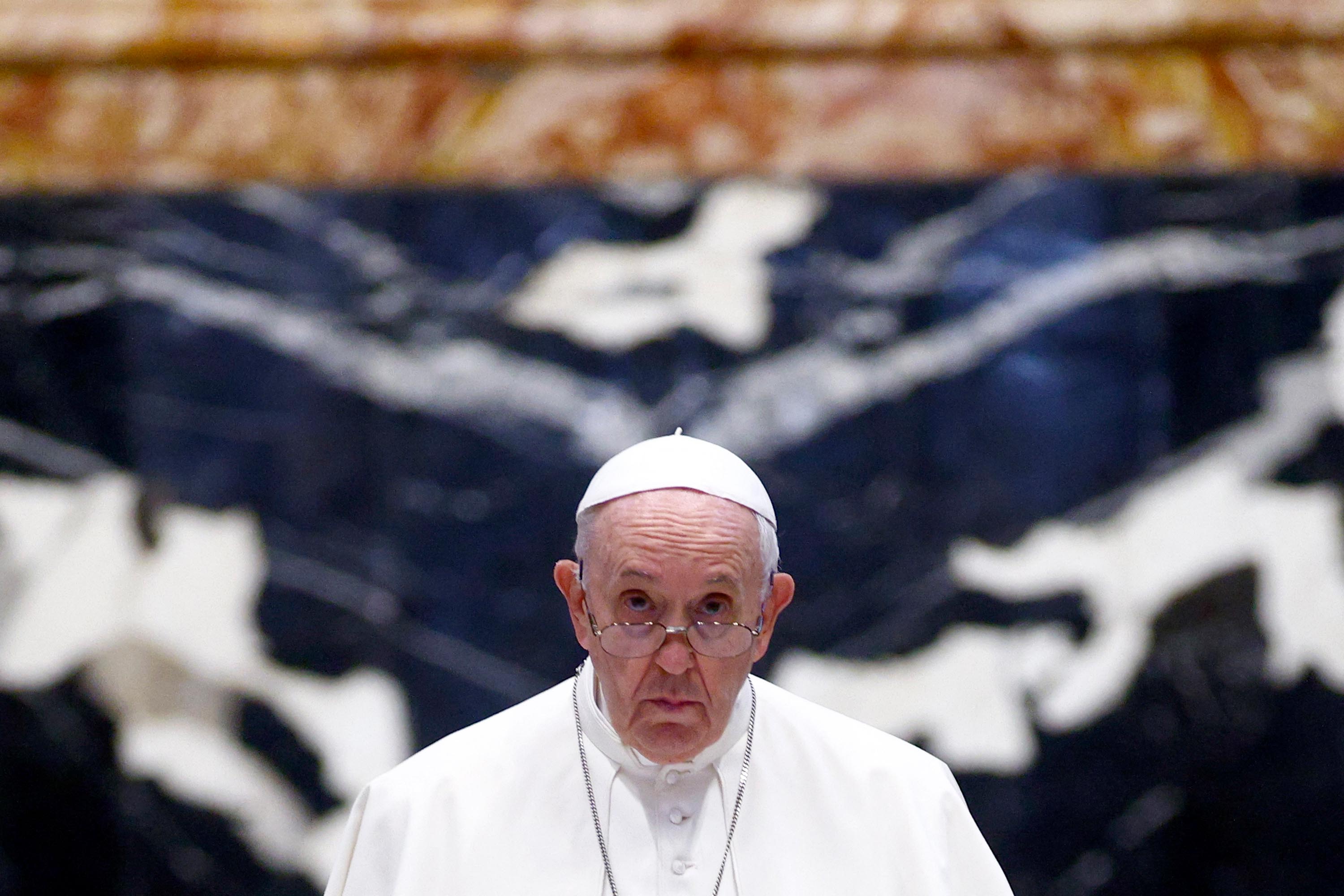 The Pope has criticized the US withdrawal from Afghanistan, claiming that "not all eventualities were taken into account here," referring to the shambolic state of the country following the Western coalition's departure. 
In a wide ranging interview with Spanish radio station COPE recorded late last week, Pope Francis said he didn't want to "judge" but "certainly there was a lot of deception perhaps on the part of the new authorities. I say deceit or a lot of naiveté." 
Francis accidentally attributed a quote from Russian President Vladimir Putin to German Chancellor Angela Merkel when reflecting on the US withdrawal after 20 years of "occupation and then leaving." 
"I was touched by something that Chancellor Merkel, who is one of the great figures of world politics, said in Moscow, last 20th [of August]. And she said, I hope the translation is correct: 'It is necessary to put an end to the irresponsible policy of intervening from outside and building democracy in other countries, ignoring the traditions of the peoples.' Concise and conclusive. I think this says a lot; and everyone can interpret it as they wish. But there I felt a wisdom in hearing this woman say this," the Pope said.
The quote was actually from a news conference with the two leaders during which Putin said the Taliban advance was evidence of the need to end outside intervention by the west.  
The Vatican's Secretariat of State will play a diplomatic role in Afghanistan to try to prevent further violence against civilians, the Pope said. 
"Cardinal Parolin is really the best diplomat I have ever met. A diplomat who adds; not one of those who detracts. He is someone who always seeks, a man of agreement. I am sure he is helping or at least offering to help. It is a difficult situation. I believe that as a pastor I must call Christians to a special prayer at this time," he said.
"I am going to try to ask for what the Church always asks for in times of great difficulty and crisis: more prayer and fasting. Prayer, penance and fasting, which is what is asked for in moments of crisis," he added.
1 hr 25 min ago
UK offers permanent residency to Afghans who worked for British military and UK government
From CNN's Sarah Dean
Afghans who worked for the British military and UK Government in Afghanistan will be able to live in the UK permanently, the UK Home Office announced on Wednesday. 
"People already relocated to the UK under the Afghanistan Relocations and Assistance Policy (ARAP) will be able to apply free of charge to convert their temporary leave into indefinite leave [permanent residency]. This will give Afghans the certainty and stability to rebuild their lives with unrestricted rights to work and the option to apply for British citizenship in the future," the government said in a news release. 
"We owe an immense debt to those who worked with the Armed Forces in Afghanistan and I am determined that we give them and their families the support they need to rebuild their lives here in the UK," UK Prime Minister Boris Johnson said in a statement. 
"I know this will be an incredibly daunting time, but I hope they will take heart from the wave of support and generosity already expressed by the British public," he continued.
Dubbed "Operation Warm Welcome," the government has allocated $16.5 million (£12 million) for extra school places for Afghans, 300 undergraduate and postgraduate university scholarships and free English courses for adults.
29 min ago
Thousands of Afghans are headed to the US. Here's why their legal status varies once they arrive. 
From CNN's Priscilla Alvarez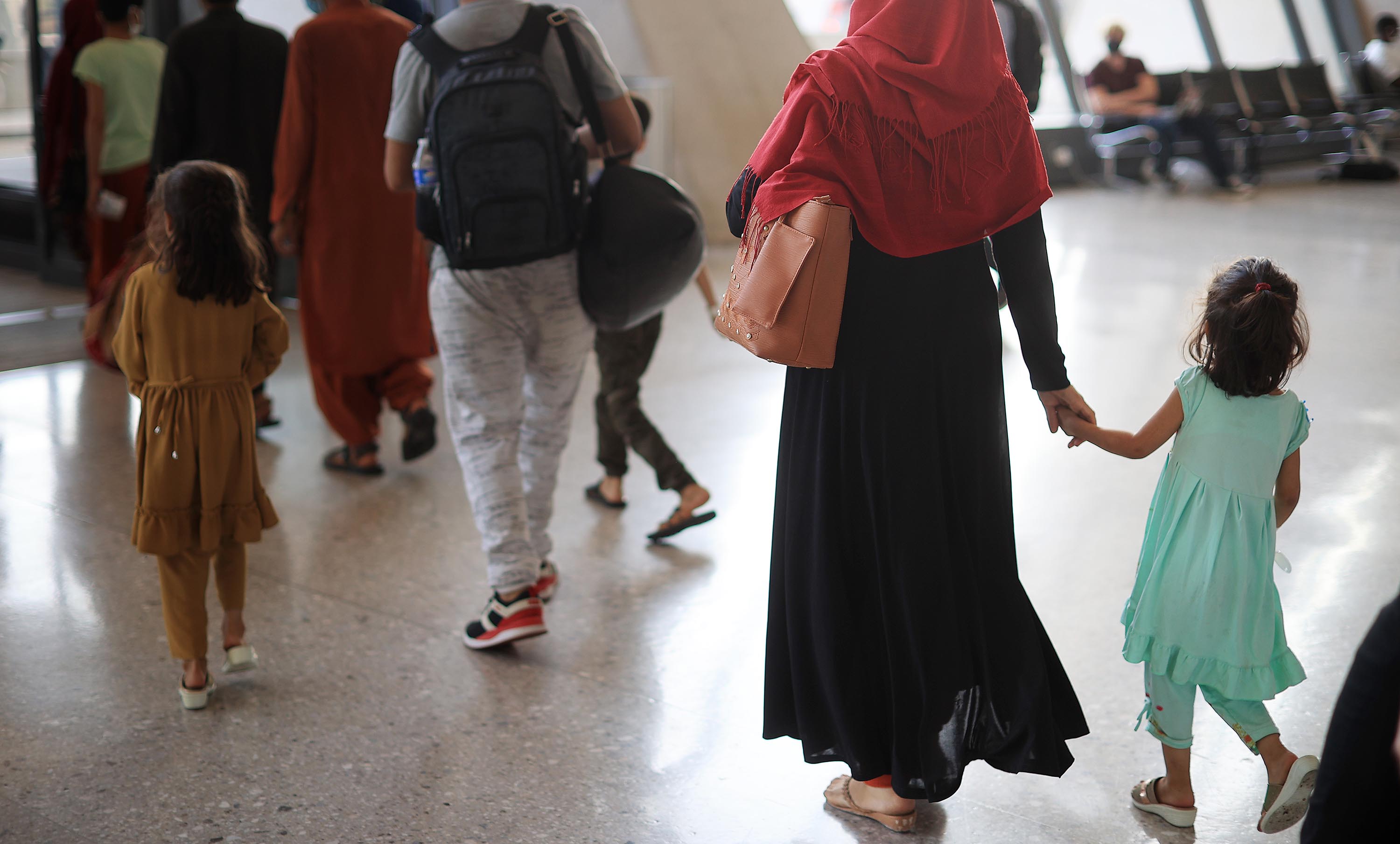 More than 122,000 people have been evacuated from Afghanistan, all with varying legal statuses and needs, as many of them arrive in the United States.
The US is relying on third countries, like Kuwait and Qatar, as a temporary stop before Afghans fly to the US. A series of military bases in the US is being used to house evacuees while they are processed.
The Pentagon has said those bases will include: Marine Corps Base Quantico, Virginia; Fort Pickett, Virginia; Holloman Air Force Base, New Mexico; Fort Lee, Virginia; Fort Bliss, Texas; Joint Base McGuire-Dix-Lakehurst, New Jersey; and Fort McCoy, Wisconsin.
The focus is now shifting on to those landing in the US and what assistance will be provided to those who left with little to no belongings after a frenzied evacuation effort.
The legal status of Afghans arriving in the US is a mixed bag. Some are US citizens and green card holders. Others have been granted visas or other forms of humanitarian relief. Most notable is the special immigrant visa, or SIV, which is meant to provide a pathway to the United States for Afghans who were employed by, or worked on behalf of, the US government.
There is a lengthy multi-step process for SIV applicants to apply for visas to the US. The process — which also includes extensive vetting — can take months, if not years, due to a massive backlog.
In early August, the Biden administration announced it would also expand access to the refugee program for Afghans who do not qualify for SIVs.
And then there are those without visas. In a move to accommodate them, US Customs and Border Protection, the agency responsible for screening arriving Afghans, has the authority to grant parole on a case-by-case basis.
The US has previously used parole during evacuations, including during the US military withdrawal from Vietnam.
Afghans paroled into the US could be interpreters who worked alongside US troops and are still going through the special immigrant visa process, or people who could've been eligible to come in through the traditional refugee resettlement program if not for the emergency nature of the evacuation and lengthy time it takes to get approvals, refugee advocates say.
The benefits Afghans receive once they arrive in the US also varies. Refugees and special immigrant visa holders have access to a range of short and long-term services to get up on their feet, from help with housing and employment to cash and medical assistance.
But parole, while providing some reprieve, doesn't unlock services that refugees receive, raising concern among refugee advocates. They argue the lack of resources could leave thousands of Afghans in the US vulnerable in the coming months.
Read more here about Afghans arriving in the US here.
1 hr 32 min ago
US and UK will learn lessons together over Afghanistan, foreign secretary says
From CNN's Sarah Dean and Nada Bashir 
UK Foreign Secretary Dominic Raab faced questions from lawmakers over the UK's withdrawal from Afghanistan. Asked if Britain can still trust the United States as a global partner, he said "the US will bounce back."
Raab said the US "is indispensable," adding that the UK worked closely with the US throughout, "not just on the evacuation, where the coordination was very strong on the ground."
Raab also said he "spoke to Antony Blinken right the way through regularly, bilaterally as well as on the NATO and G7 calls – and we'll learn the lessons together."
Earlier, Raab said the UK did not think there was any "viable coalition" to stay in Afghanistan once the US had announced it was withdrawing.
1 hr 46 min ago
UK "not confident with any precision" about number of people it still needs to evacuate from Afghanistan
From CNN's Amy Cassidy
The UK is "not confident with any precision at all" about the number of people it still needs to evacuate from Afghanistan, Foreign Secretary Dominic Raab said Wednesday
Asked if it is in the thousands, he said: "We don't think that. We think that in terms of nationals, we're into the hundreds, possibly the mid to low hundreds, but again, it depends on eligibility, which of course [is one of the] things that has been a challenge."
2 hr 25 min ago
UK believed the Taliban was "unlikely" to take Kabul until next year
From CNN's Lindsay Isaac and Amy Cassidy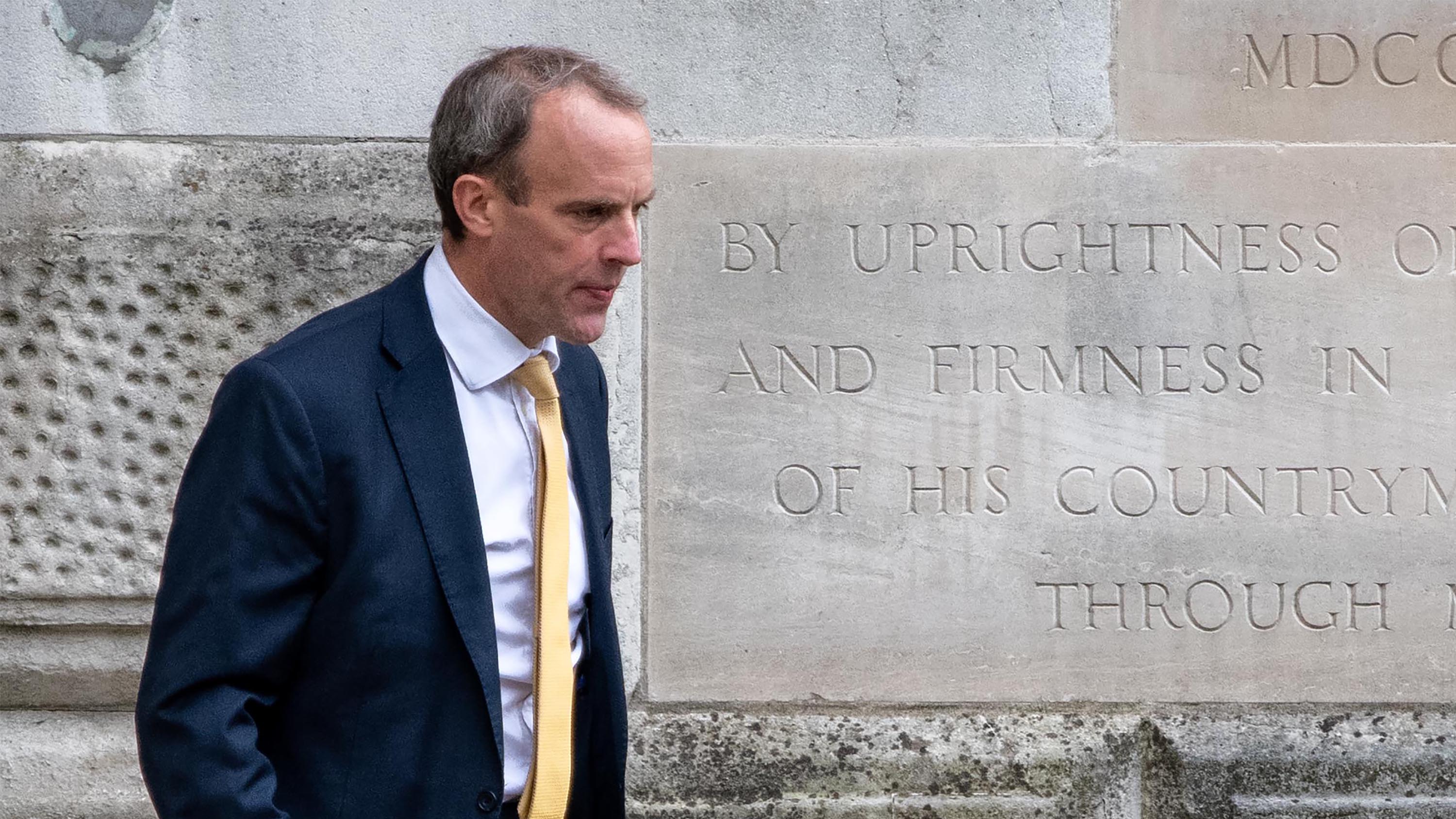 The British government's "central assessment" of the situation in Afghanistan following the withdrawal of US troops was that the capital was unlikely to fall to the Taliban at the speed in which it did. 
At an inquiry into the UK's handling of the Taliban advance on Kabul, UK Foreign Secretary Dominic Raab said the assessment the government was "operating to," expected a "steady deterioration" of the country, not the rapid advance that ensued. 
Raab said the proposition was that if troops were out of the country by the end of August, "you would see a steady deterioration from that point, and that it was unlikely Kabul would fall this year."
"That was the central assessment, and of course with all the usual caveats that you will be familiar with. That doesn't mean we didn't do contingency planning or test the other propositions. And just to be clear, that was something that was widely shared, that view, among NATO allies," Raab added.
That assessment was backed up by both the Joint Intelligence Committee and the military, he said. 
"So if I'm honest with you, I don't think there was any viable alternative coalition once the US decision had been taken," he said.
Raab said he was leaving to go to the "region" following Wednesday's session of the Commons Foreign Affairs Committee. 
3 hr 26 min ago
Democratic lawmaker: US needs to be "very careful" with the Taliban as citizens still remain in Afghanistan
Since some American citizens and Afghan partners still remain in Afghanistan after the evacuation mission ended, the United States needs to be "very careful" about its policy on the Taliban, Democratic Rep. Jason Crow, who served in Afghanistan as a former US Army veteran, told CNN.
"These folks are at tremendous risk right now," he said. "It's just true that we're going to have to rely on the Taliban to some extent to allow safe passage for those American citizens to get to the airport, to get to the border to get out of the country. That is just the reality. We can't do that successfully without some level of coordination. So I think we get our folks out, then we can have the larger conversation about how we're going to engage in the future, if at all, with the Taliban."
Crow added that he is not sure if there is a "full plan" in place to get those citizens and allies out.
"I'm going to be pushing the administration to present that action, joining with several of my colleagues to send a letter recommending that certain steps be taken," he told CNN Wednesday. "The President is the Commander in Chief. He had to balance multiple things and risks. He made the decision to pull out on a deadline. Now we have to focus on what we do to go forward."
President Biden pledged Tuesday that the mission to help those people leave would continue despite the US' military mission in the nation ending. A senior State Department official said the department believes there are fewer than 250 American citizens currently in Afghanistan — and Secretary of State Antony Blinken said Monday that number may be closer to 100 — who may wish to leave, as US officials stressed a Taliban commitment to let Afghans leave the country after the US and allies left.
The State Department official put the number of American citizens who have left the country through evacuation flights or other means closer to 6,000.
Watch:
CNN's Maegan Vazquez and Kevin Liptak contributed reporting to this post.
3 hr 47 min ago
White House plans clear shift away from Afghanistan after chaotic withdrawal 
From CNN's Phil Mattingly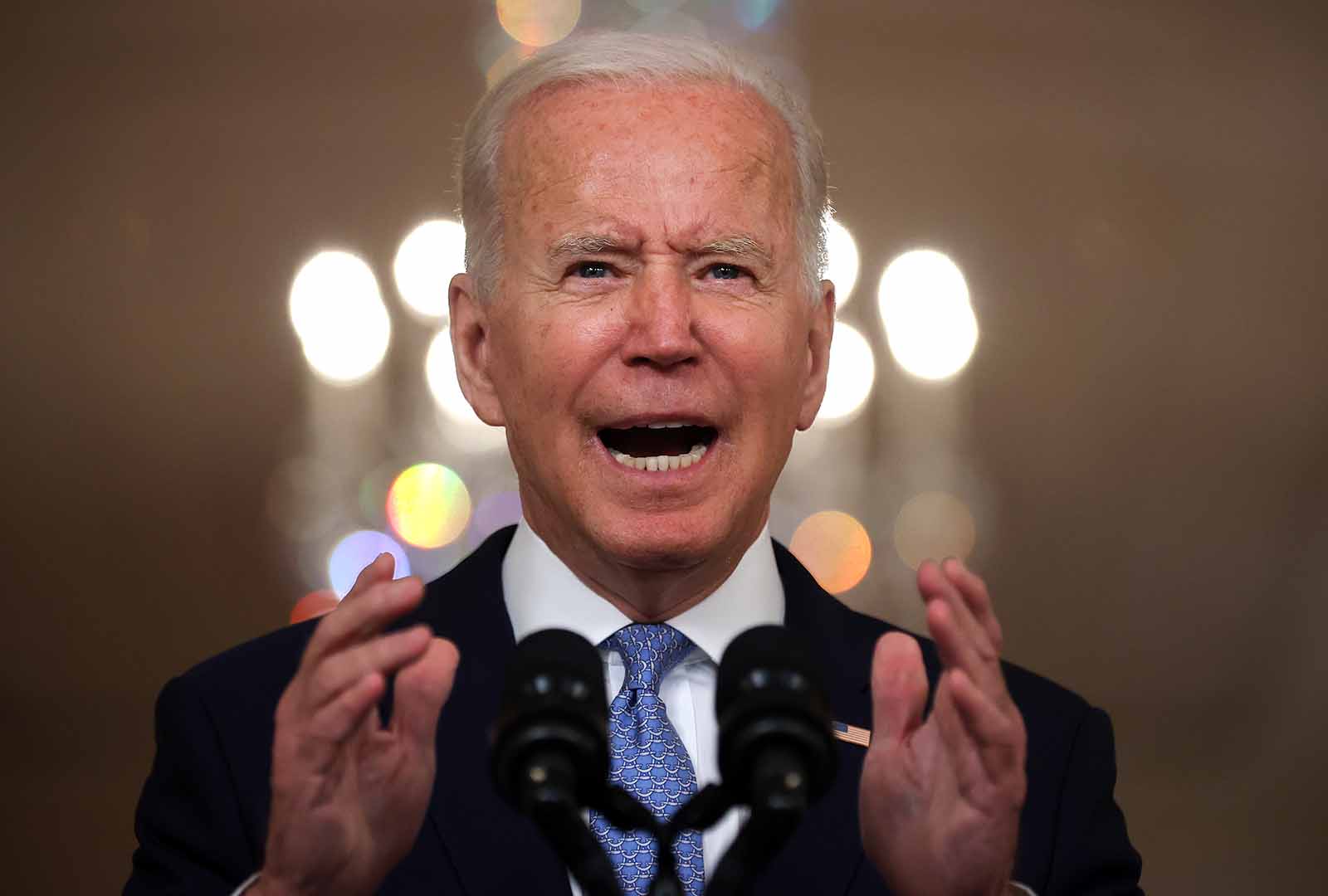 President Biden's forceful delivery of his remarks on Afghanistan was intentional. So was the lengthy nature of the speech. So was the clear and calculated effort to pull back from the chaos of the 17 days prior and shift the focus on Biden's broader foreign policy goals.
Biden's remarks served as an effort to punctuate the end of two decades of war and the underscore a decision Biden never wavered from.
But it was also a clear, if implicit, signal that the White House would be publicly moving its clear focus to the domestic challenges at hand in the days ahead, according to multiple administration officials.
The administration is closely monitoring the aftermath of Hurricane Ida, where Biden has deployed federal resources in the last several days. Biden is likely to visit the Gulf Coast at some point in the days ahead, officials said, once it becomes clear his presence won't interfere with relief efforts. 
The battle against the surge of the Covid-19 Delta variant still looms inside the White House as the largest challenge the administration faces, particularly as millions of children head back to schools.
Officials also say Biden plans to shift back to an intensive focus on selling his $4 trillion domestic legislative agenda as it enters its most critical phase on Capitol Hill in the coming days.
Biden and his top advisers viewed the day after the final U.S. military plane lifted off from Hamid Karzai airport as a moment for Biden step away from the litigation of the chaotic and bloody evacuation.
There would be no acknowledgement of failures or mistakes. Instead, it would serve as the most detailed encapsulation of Biden's broader foreign policy vision that he's delivered in months.
They targeted the intentionally longer, broader remarks at a majority of the country that has long been in favor of pulling out of the war.
The speech was, as described by one official, a "a clear reminder to the public of the bigger picture" – one Biden intensely believes carries a wide swath of support inside the country.
Still, officials acknowledge there are still significant challenges ahead.
The diplomatic discussions over securing safe passage out of the country for the more than 100 American citizens who want to leave and remain have not reached any conclusion. U.S. officials are still grappling with trying to secure clear assurances Afghan allies can also leave – a possibility that has drawn significant skepticism and concern from both parties on Capitol Hill.
Of the Americans that remain in the country, sources say they represent the most complex cases US officials were seeking to manage in the final days. Most were dual citizens, often long-time residents of Afghanistan, who wavered on whether to leave until the final moments out of concern for leaving extended family.
In the wake of the terror attack at the Kabul airport that killed 13 US service members and scores of Afghans, other American citizens chose to halt their efforts to depart out of fear, sources said.
Officials describe the efforts to ensure safe passage for those citizens as "intensive" as the diplomatic phase of the operation kicks into gear.
3 hr 50 min ago
What now for Afghan refugees hoping to leave the country?
From CNN's Nina Avramova and Sophia Saifi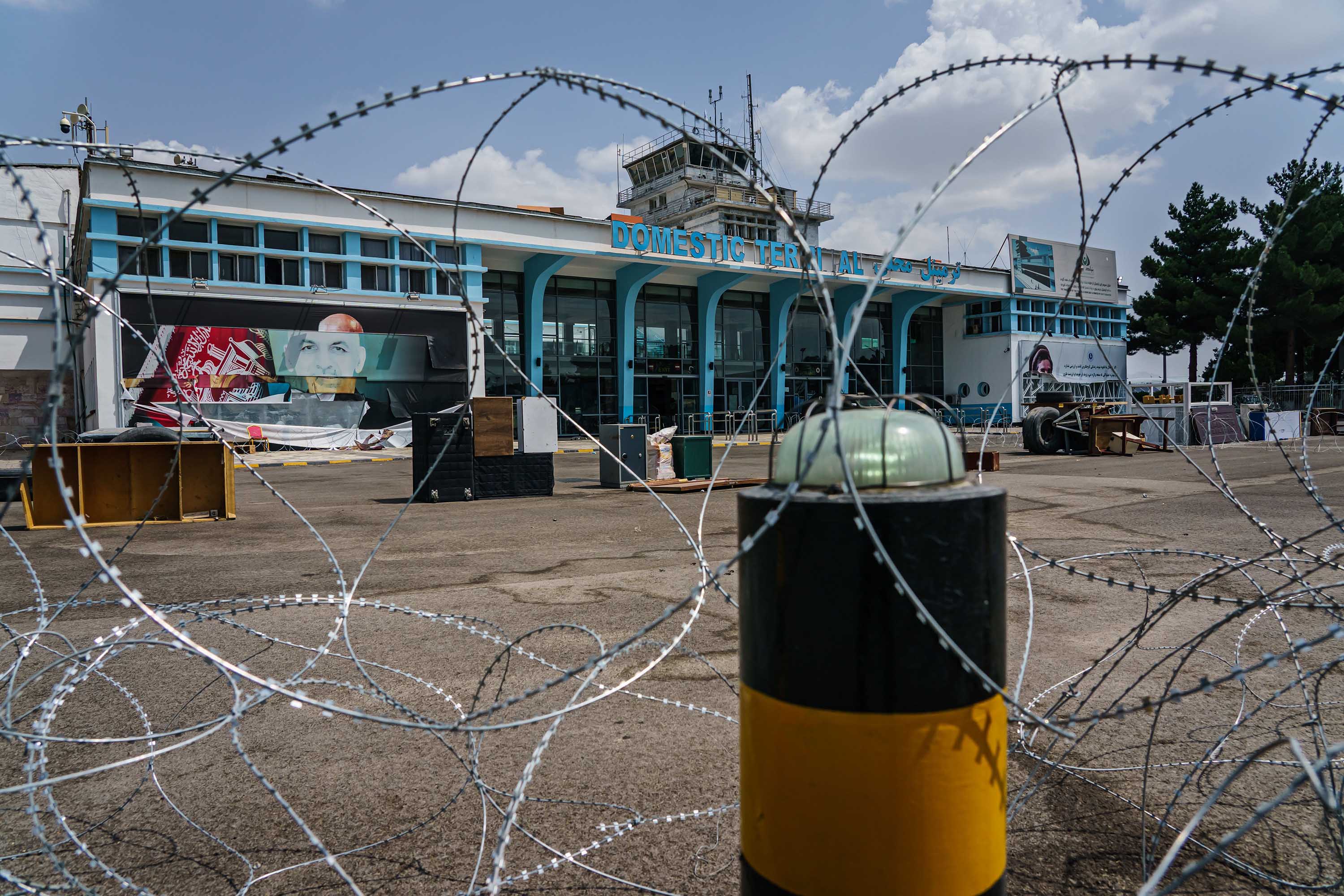 With the airlift from Kabul now over, alternative routes out of the country for Afghan civilians are limited.
Earlier this week, the United Nations High Commissioner for Refugees called for Afghanistan's borders to be kept open for those seeking safety abroad amid warnings of a looming humanitarian crisis in the country.  
The High Commissioner, Filippo Grandi, said in a statement Monday that around 3.5 million people had already been displaced by violence in the country and "most have no regular channels through which to seek safety."
"Some Afghans will inevitably need to seek safety across the country's borders. They must be able to exercise their right to seek international protection, and borders must be kept open for them for this purpose. Those countries that neighbor Afghanistan who have been taking in refugees for decades need greater support," Grandi said.
He also pointed out that neighboring Pakistan and Iran already host more than two million registered Afghan refugees, almost 90% of the total. "As we continue advocating for open borders, more countries must share this humanitarian responsibility." 
With Kabul's airport shuttered for now, some civilians do indeed appear to be searching for an alternative route via land borders. Some have been gathering at the Torkham and Chaman checkpoints with Pakistan during the last week hoping to enter the country. However, Pakistan is discouraging this movement, saying it cannot cope with the flow of more refugees.
Qaiser Khan Afridi, Pakistan spokesman for UNHCR, the UN Refugee Agency, said Tuesday the group had not observed a surge of people at its major border checkpoints with Afghanistan.
"As normal routine 20,000 used to come back and forth from Chaman border crossing, there has been an increase at Chaman because of Torkham border officials being more strict at the moment, so the normal movement of people toward the Torkham border crossing has moved to Chaman," Afridi said.
He added that the Pakistani government's "stance has not changed" and that so far UNHCR "hasn't seen any large scale movement into Pakistan of people seeking asylum." 
Afridi said they are monitoring the situation at the Afghan border in terms of any political developments and expect to have more clarity in a week.