San Diego Legion: Returning to the Playoffs, Hard Work, and Snapdragon Stadium – OurSports Central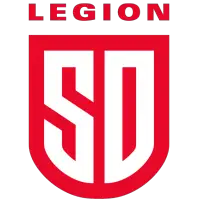 In 2022, the San Diego Legion made their return to the postseason for the first time since 2019. Having missed out in 2021 with a 6-10 record, under the guidance of new head coach Danny Lee this year, the team found themselves in the Western Eliminator against the Seattle Seawolves. When last the two teams faced off in postseason play, San Diego and Seattle were in the 2019 Championship game, where the Seawolves crowned themselves as two-time Major League Rugby champions. When the two teams came toe to toe last June, Seattle prevailed once more. With a final score of 43-19, the Legion is now hoping to grow even further in the 2023 season.
RETURNING TO THE PLAYOFFS
In Southern California, Danny Lee's preparations for the new season are well underway. After a first season at the helm of San Diego, he has learned plenty about the league and has a plan for exactly how to take his team to a new level in 2023.
Thanks to the new and exciting competition, Lee is drawn to Major League Rugby and has thrown himself into life as a head coach in one of world rugby's latest professional competitions. As a player, Lee played for all four of New Zealand's Super Rugby teams and, in 2002, played two Test matches for the All Blacks.
Retiring in 2011 after spending time in Wales with Dragons, the 46-year-old threw himself into coaching with Hawke's Bay in New Zealand and Mie Honda Heat in Japan before North America caught his eye.
Arriving in America in late December, Lee met up with his new squad and coaching staff just several weeks before the new MLR season got underway.
It meant the time to implement the team's game plan was shorter than preferred. Still, even without the perfect preparation, the side would make the postseason after the disqualification of the Austin Gilgronis and LA Giltinis from the playoffs.
"We started pretty well. We won four out of the first five games, and things were cruising along," Lee said. "There were a few cracks here and there. It is hard to put my finger on it, but I think it comes to the continuity, the new coaching group, and the new styles we were trying to implement within the group of guys.
"By the time we got halfway through the season, we had a little more buy-in from the players. They could understand what I was trying to do, our goals around that season, and what we were trying to achieve. But it did take its time.
"To be honest, we didn't really nail some of the opportunities we had in certain games. We lost some games by a few points, which affected us in the table, and we found ourselves in a difficult position toward the end of the season. I was pretty excited to get the opportunity to get into the playoffs and have a real crack at it."
Ryan Matyas has been a key member of the Legion since the team's inception. Like his coach, the wing is gearing up for another season of professional rugby and is enthused by his teammates' display in the recently concluded season.
"It was an unconventional playoff berth, but nonetheless, we were excited to be able to be back in that conversation and give ourselves another opportunity," Matyas said.
"I think we showed all season, through every single game we had, there were moments where we had these glimpses and these flashes of being a Championship winning team. We lost to the Champions New York by three points [23-26]. It essentially came down to one penalty after flying to New York the day before the game in freezing cold weather.
"We are right there. We are that close. We had these glimpses and these chances and opportunities, but at the end of the day, it was clearly just too much for us to be able to figure out. Leading into this year [2023], there is some really exciting stuff we can build some continuity from."
HARD WORK COMING
Still, with the best part of three months before his players arrive in Southern California, Lee's preparations are much further ahead than this time a year ago. This includes the plan to use US Military terminology with his group and a training camp that may even take place on a military base.
Along with his forward's coach Scott Murray, defense coach Jack Wiggins and newly appointed scrum coach Alex Corbisiero, the New Zealander will be focused on another critical aspect, improving the group's fitness. This group is almost entirely recruited.
"We believe that we are putting in position a team that, on paper, will go close to winning the comp," Lee said. "There are probably a couple of spots we are still trying to lock down. We are getting our preparation around our start time, our camps, and our mindset around what is more important at the start of the year.
"Last year, we probably focused on that first game too much. Around having everything organized 100% on everything on the game. From set-piece to attack and defense and breakdown. The goal next year is to try and build our cohesion in our squad, our fitness levels, and our understanding of how we want to play the game.
"If that means going into the first couple of weeks underdone, then that is what we will do. It is about getting the guys on the same page, getting them bigger, it is about them getting fitter, and all that is going to happen first and foremost.
"Then we will start to incorporate more rugby, technical and tactical aspects once we get through all that other stuff. We know that other stuff is probably more important at that stage of the year, and the rugby IQ and rugby information that is going through the boys will start to soak in, and we will start to build on that as we get into the third, fourth or fifth round."
A NEW HOME
This offseason has been a busy one for Lee. Along with the recruitment of Corbisiero as scrum coach and the drafting of KoiKoi Nelligan and Oliver Kane, the team has reacquired Mikey Te'o from the Utah Warriors. Additionally, he brought in Sean McNulty from the Seawolves and former Austin lock Isaac Ross.
With all of the new faces that will be donning Legion colors in 2023, there is one new element to a matchday in San Diego that is considered the most exciting.
Starting in 2023, the Legion will call Snapdragon Stadium home and will share this brand-new, 35,000-capacity facility with the San Diego State Aztecs and San Diego Wave FC. Already the venue is being touted as having the venue to host Test matches and, in the years to come, Rugby World Cup games in 2031 and 2033. No doubt an attraction for potential players, for Matyas, it is the realization of a childhood dream as the team aspired to play on the biggest stage possible.
"Being in a new stadium, being there for the next ten years, starting to really continue to lay the foundations and build that legacy and what it means to be part of San Diego Legion," Matyas said.
"I know a lot of people are starting to look over and want to be a part of Legion, to be able to play in that arena. We get into sports as kids, fantasizing and dreaming about playing in front of these massive crowds under huge stadium lights, and people are going to be able to tick those boxes playing at Snapdragon as their home stadium.
"You are going to tick those boxes walking out there at that massive stadium, with the big crowd, under the lights and say, 'this is why I do all the training, this is why I have made all the sacrifices to be able to play in a stadium like this'. It is exciting that we get to be able to call this stadium home."
WRITTEN BY JOE HARVEY
The opinions expressed in this release are those of the organization issuing it, and do not necessarily reflect the thoughts or opinions of OurSports Central or its staff.