Russia – Ukraine war live updates today: Zelensky says US, EU, UK sanctions "not enough" – AS USA
Russian invasion of Ukraine: live updates
Headlines
– Fresh western sanctions against Russia "not enough", says Ukraine President Zelenskyy
– US announces sanctions package that includes penalties against Vladimir Putin's daughters
– UN to vote Thursday on suspending Russia from Human Rights Council
– Ukraine's foreign minister calls for more NATO weapons
– Russian forces "wiping Mariupol of face of earth" – Ukraine military commander
More info on the Russia-Ukraine war
– What did Zelenskyy say in his Grammys speech?
– What are the differences between refugee, asylee and internally-displaced person?
Related AS USA news articles:
Kremlin baffled by U.S. sanctions against Putin's daughters
The Kremlin said today that it was bewildered by the U.S. decision to impose sanctions against President Vladimir Putin's adult daughters, describing the move as part of a broader Western frenzy against Russia.
Fresh U.S. sanctions against Moscow over its military intervention in Ukraine on Wednesday targeted Russian banks and elites, including Putin's daughters Katerina and Maria, who U.S. officials believe are hiding their father's wealth.
'Of course we consider these sanctions in themselves to be the extension of an absolutely rabid position on the imposition of restrictions,' Kremlin spokesman Dmitry Peskov told reporters. 'In any case, the ongoing line on imposing restrictions against family members speaks for itself.'
Peskov said the Kremlin could not comprehend why Putin's daughters would be targeted.  'This is something that is difficult to understand and explain,' he said. 'Unfortunately, we have to deal with such opponents.'
Putin's daughter Katerina Tikhonova is a tech executive whose work supports the Russian government and its defense industry, according to details in the U.S. sanctions package announced on Wednesday. His other daughter, Maria Vorontsova, leads government-funded programs that have received billions of dollars from the Kremlin toward genetics research, and are personally overseen by Putin, the United States said.
Putin has always kept his and his family's private life out of the spotlight. The Kremlin often dismisses questions about them, citing his right to privacy.
Russia's lies, propaganda and deception
The Center for European Policy Analysis has been assessing the misinformation and propaganda coming out of Russia.
Vladimir Putin's war against Ukraine, which almost from day one was a war against (mostly Russian-speaking) civilians, is becoming increasingly monstrous. Recently, Ukrainian military experts reported that Russian troops had again used banned phosphorus weapons in an attack on the front line near Avdiivka, in the country's east, noting that their use has become systematic. Murders and rapes of local residents are being reported at an ever-increasing rate. Cities and towns are reduced to rubble by artillery barrages in what Russians cannot, by law, describe as war.
What Russians actually hear about the war is of course another matter. With just about every independent news outlet now closed (the award-winning Novaya Gazeta shut down for the duration of the war on March 28), there are very few alternatives to the Kremlin's propaganda outlets.
Zelenskyy speaks to Parliament
We have become very used to President of Ukraine, Volodymyr Oleksandrovych Zelenskyy, making speeches around the world via live links.
Here is a flashback to when he addressed the UK Members of Parliament on 8 March.
Russia "wiping Mariupol off face of earth" – Ukraine military commander
Russian forces' bombardment of the besieged city of Mariupol is "wiping the city of the face of the earth", Serhiy Volyna, the deputy commander of the Marine Battalion in Mariupol, has told CNN.
"It is a humanitarian catastrophe," Volyna said on Wednesday. "The military that were involved in active hostilities here are completely surrounded. There are supply problems with water, food, medication and general supply. It's a very difficult situation," 
"We have been encircled in Mariupol for more than 40 days. The enemy outnumbers us and in terms of weaponry, their artillery, they have sea-based artillery, tanks, armored vehicles and of course mortars. It is difficult for us."
Russia likely to renew attack on Kyiv if it takes Donbas – Ukrainian military
Russia is likely to renew its attack on Kyiv if its forces succeed in taking full control of the eastern regions of Donetsk and Luhansk, the deputy chief of staff of Ukraine's ground forces said on Thursday.
Speaking at an online briefing about efforts to defend the capital, Oleksandr Gruzevich said: "It is likely the enemy has not given up the goal of a second attack on Kyiv – there is such a threat."
(Reuters)
"Morale issues" in Russian forces expected to continue – UK intelligence
Russian forces are expected to "continue facing morale issues" despite the change in focus of the invasion of Ukraine, says the latest intelligence update issued by the UK's Military of Defence.
"Progressing offensive operations in eastern Ukraine is the main focus of Russian military forces," the update says.
"Russian artillery and air strikes continue along the Donbas line of control.
"Russian strikes against infrastructure targets within the Ukrainian interior are likely intended to degrade the ability of the Ukrainian military to resupply and increase pressure on the Ukrainian government.
"Despite refocussing forces and logistics capabilities to support operations in the Donbas, Russian forces are likely to continue facing morale issues and shortages of supplies and personnel."
New EU sanctions package ready on by end of week – Borrell
The European Union will approve its fifth package of sanctions against Russia on Thursday or Friday, says Josep Borrell, the bloc's foreign policy chief.
"We have been following a progressive approach. Now we are accelerating," Borrell told reporters, per Reuters.
The EU's proposed sanctions include a ban on coal imports and a transaction block on a number of major Russian banks.
These fresh penalties will join those imposed on Wednesday by the US and the UK.
Ukraine wants "full oil and gas embargo" against Russia – foreign minister
Ukraine will keep up demands for an oil and gas embargo on Russia after its invasion of the country, the Ukrainian foreign minister said on Thursday.
Dmytro Kuleba will address NATO's 30 allies, as well as the European Union, Finland, Sweden, Japan, New Zealand and Australia, in a special session of foreign ministers to maintain international support for sanctions and weapons supplies.
"We will continue to insist on full oil and gas embargo," he told reporters at NATO, speaking alongside Secretary-General Jens Stoltenberg.
"I think the deal that Ukraine is offering is fair. You give us weapons, we sacrifice our lives, and the war is contained in Ukraine," he said.
Kuleba called on Germany in particular to speed up weapons' deliveries to Ukraine, asking for planes, land-based anti-ship missiles, armoured vehicles and air defence systems. He said procedures were taking too long in Berlin.
(Reuters)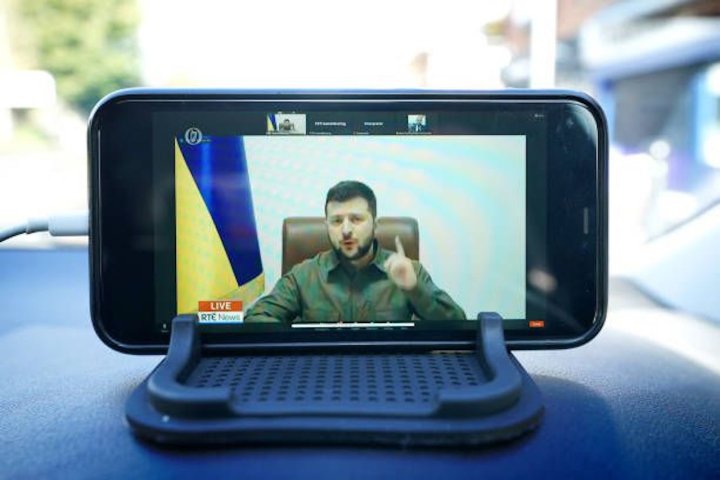 Zelenskyy: Fresh western sanctions not enough
Ukraine President Volodymyr Zelenskyy says Russia must face tougher economic sanctions, after western powers announced further penalties on Wednesday.
"This package has a spectacular look," Zelenskyy said in his latest daily address. "But this is not enough."
He said the invading forces would see it a "permission to attack" if there isn't a "really painful package of sanctions against Russia and if there is no supply of weapons".
(Photo: Niall Carson/PA Images/Getty)
Russia-Ukraine war, live updates: welcome
Good morning and welcome to AS USA's daily live blog on the Russian invasion of Ukraine, which is now into day 43.