Men's Tennis Announces Fall Schedule – Men's Tennis — Georgia Tech Yellow Jackets – Georgia Tech
THE FLATS – Highlighted by a home tournament, Georgia Tech men's tennis will play a competitive fall slate to open the 2022-23 season.
The Yellow Jackets will participate in a couple UTR events to get action going, traveling Columbia, S.C. for the UTR South Carolina, Sept. 9-11, and Columbus, Ga., for the UTR Columbus, Sept. 16-18.
Action continues with the Yellow Jackets returning to the Commodore Invitational at Vanderbilt, Sept. 23-25 before individuals travel the short distance to Lawrenceville, Ga., to take part in the UTR Gwinnett, Sept. 30-Oct. 2.
Select individuals will compete in the ITA All-American Championships, hosted by the University of Tulsa, Oct. 1-9. Pre-qualifying action gets underway Oct. 1 with main draw play beginning Oct. 5. The team will return to action at the ITA Southeast Regionals in Tallahassee, Fla., Oct. 20-24 before concluding the month at the FSU Futures event, Oct. 24-30.
The fall season will conclude with Tech hosting the GT Fall Invite, Nov. 4-6, while select Yellow Jackets will compete in the ITA National Fall Championships, Nov. 2-6, in San Diego, Calif. The Fall Championships are the grand finale to the fall collegiate tennis season and features 32 of the nation's top collegiate singles players and 32 doubles teams.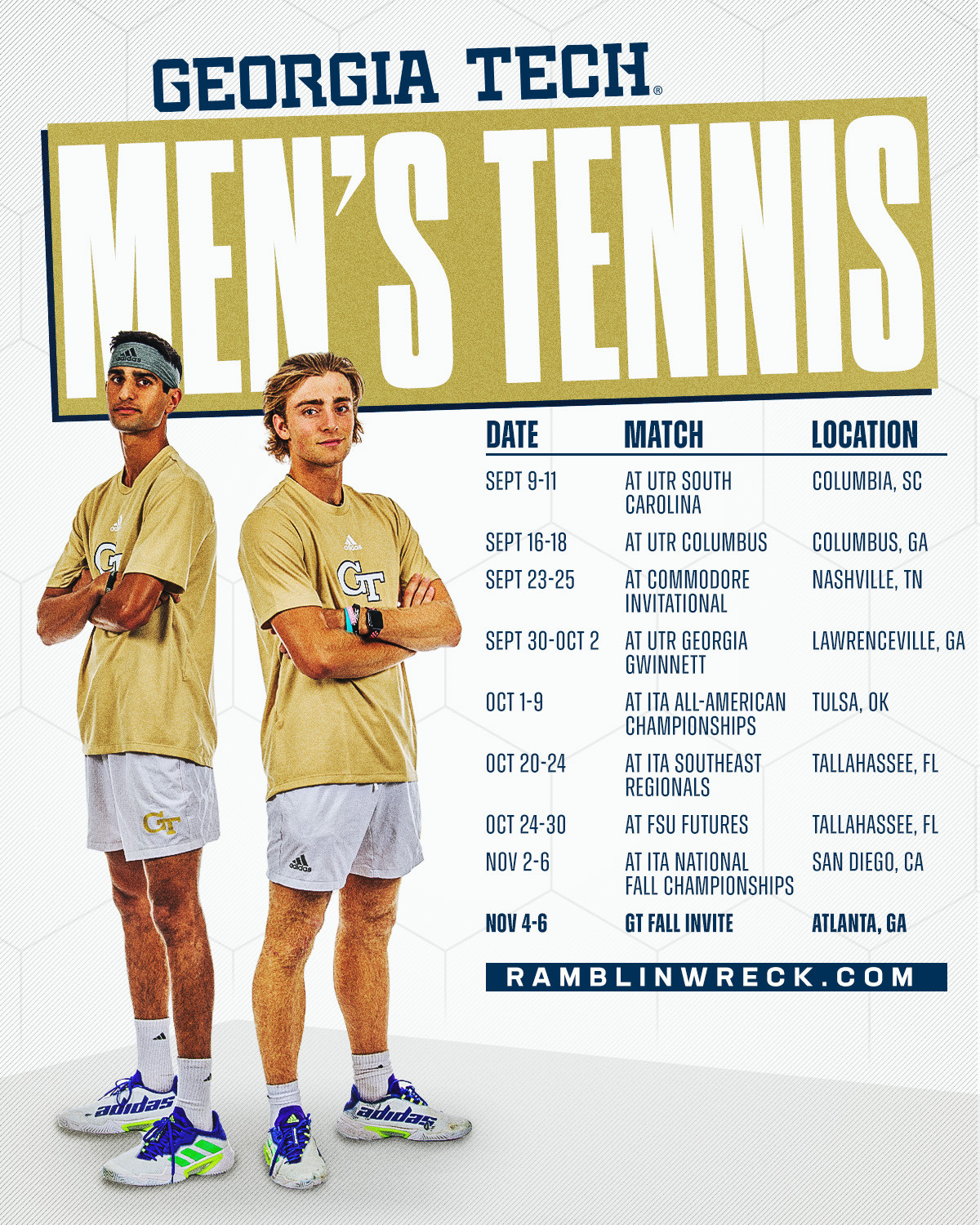 Georgia Tech returns four letterwinners from last season's squad in Keshav Chopra (Marietta, Ga.), Ángel Guerrero Melgar (Marbella, Spain), Andres Martin (Flowery Branch, Ga.) and Marcus McDaniel (Vacaville, Calif.). A trio of newcomers joined the roster in Robert Bauer (Suwanee, Ga.), Rohan Sachdev (Cary, N.C.) and Elias Shokry (Marietta, Ga.).
Alexander-Tharpe Fund
The Alexander-Tharpe Fund is the fundraising arm of Georgia Tech athletics, providing scholarship, operations and facilities support for Georgia Tech's 400-plus student-athletes. Be a part of developing Georgia Tech's Everyday Champions and helping the Yellow Jackets compete for championships at the highest levels of college athletics by supporting the Annual Athletic Scholarship Fund, which directly provides scholarships for Georgia Tech student-athletes. To learn more about supporting the Yellow Jackets, visit atfund.org.