Johnny Depp v Amber Heard trial aftermath updates live: reactions to verdict, Heard interview and book, appeal – AS USA
Johnny Depp v Amber Heard aftermath: headlines
– Billie Eilish laments overturning of Roe v Wade has to compete for public attention with Depp v Heard trial
– Johnny Depp rep on talk of $300m Disney deal: "This is made up"
– Paul McCartney show of support "helpful" for Depp, PR expert says
– Judge Azcarate makes $10.3m defamation award official
– Amber Heard legal team formally confirm appeal against trial verdict
– Heard must post $11m suspension bond to appeal verdict
– Tickets go on sale for Hollywood Vampires' tour of Germany, Luxembourg in 2023
– Depp presently on Scandinavian leg of tour with guitarist Jeff Beck
Take a look at some of AS USA's related news pieces:
Juror of the Johnny Depp vs Amber Heard trial speaks: what does he accuse Heard of?
Despite the trial ending weeks ago, stories continue to dribble out of the Depp Heard trial like a broken pipe. Now, a juror has explained the verdict.
One anonymous juror, speaking to GMA, has shone a light into the process behind the curtain. So far, he is the only one of seven jurors to speak publicly.
Although the jury found both Depp and Heard to be abusive to the other, the Aquaman star was found to be less credible seemingly able to "flip the switch on her emotions."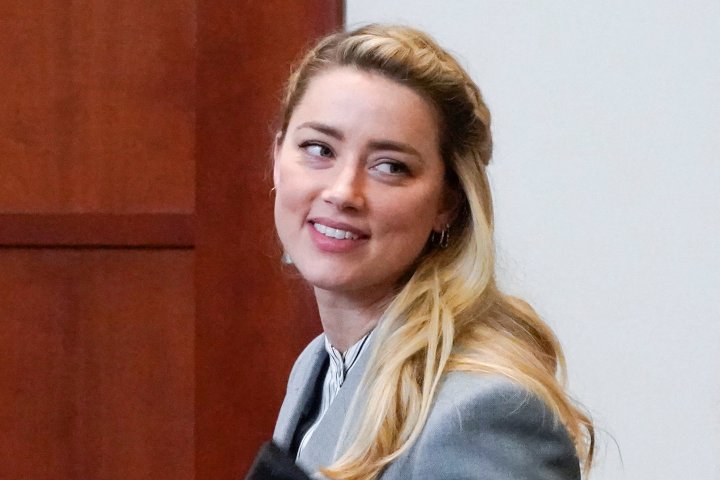 Depp v Heard defamation lawsuit at the Fairfax County Circuit Court
The way Amber Heard behaved on the witness stand should not necessarily be taken as evidence that she was lying, experts have told Insider.
A Depp v Heard jury member told Good Morning America that the Aquaman star "didn't come across as believable" in court, explaining: "It seemed like she was able to flip the switch on her emotions. She would answer one question and she would be crying and two seconds later she would turn ice cold. It didn't seem natural."
However, Dr Kate Porterfield of Columbia University's Dart Center for Journalism and Trauma says such sudden emotional shifts can occur when survivors talk about traumatic experiences, as they first become agitated then seek to calm themselves down.
"Thus, the person can then appear flat, detached, and disconnected," Porterfield said. "All of this is difficult for juries to understand because it seems counterintuitive that a person could look flat or maybe even bored."
Dr Jim Hopper of Harvard Medical School said that it was "only human" for jurors to be swayed by witness' outward emotions, but added: "The question is what knowledge base do you have? […] If they were someone who was traumatized, then are you capable of empathizing with someone who might express that trauma in a variety of different ways?"
Amber Heard's Aquaman co-star Jason Momoa becomes UN advocate for oceans
On Monday, Jason Momoa was named as the new UN Environment Programme's Advocate for Life Below Water. 
Since 2019, his fellow  Aquaman co-star Amber Heard has been serving as a Human Rights Champion for the Stand Up 4 Human Rights campaign at the UN. But doubts about whether she is still still performs that role have been raised with her profile seemingly scrubbed from the official page.
Although it can be found on Google, the link to the page featuring Heard routes the search to a generic page. A campaign on Change.org had called for her removal from the project. Newsweek reports that the United Nations Human Rights Council and representatives of Heard have not responded to inquires about her apparent removal.
Johnny Depp prepares for first big screen role in three years
Johnny Depp was spotted in Paris over the weekend, reportedly preparing for his first big screen film in three years. He will be playing the role of Louis XV in "Jeanne Du Barry" opposite actress and filmmaker Maïwenn who will direct the movie. 
The French language film tells the story of Jeanne Bécu, the illegitimate daughter of an impoverished seamstress who managed to rise through the ranks of the court of King Louis XV to become his last official mistress. 
Depp is currently on tour with Jeff Beck after releasing a new album with the English guitarist. Since winning his defamation lawsuit against ex-wife Amber Heard, the Pirates of the Caribbean star has been riding a wave of jubilation which TMZ reports could be seen from his ear-to-ear smile he's been sporting for the past three weeks.
What did Heard tell Savannah Guthrie about Depp trial? Summary, highlights of TV interview
NBC aired the full Dateline interview given by Amber Heard to journalist Savannah Guthrie, portions of which had been released throughout the week. The interview was Heard's first since losing her defamation suit and counter-suit to ex-husband Johnny Depp earlier this month.
She has been ordered to pay Depp $10.35m in damages, $8.35 million once $2 millon Depp must pay her for countersuit victory is subtracted, after a jury deemed she defamed the 59-year-old in a Washington Post op-ed in which she didn't mention Depp by name, but described herself as a "public figure representing domestic abuse." Heard's lawyer, Elaine Bredehoft, has said she intends to appeal.
I don't presume the average person should know those things. And so I don't take it personally.

But even somebody who is sure I'm deserving of all this hate and vitriol, even if you think that I'm lying, you still couldn't look me in the eye and tell me that you think on social media there's been a fair representation," she added when addressing the countless social media posts and internet memes targeted toward her during the trial.
Camille Vasquez eyeing opportunities
Johnny Depp's attorney Camille Vasquez is plotting her next move after winning his case against Amber Heard … and she's in high demand in both the legal world and Hollywood.
Sources with direct knowledge tell TMZ … Camille's considering a wide range of career options in the wake of the Depp-Heard trial, and her rise to fame, including media, law and even authoring a book.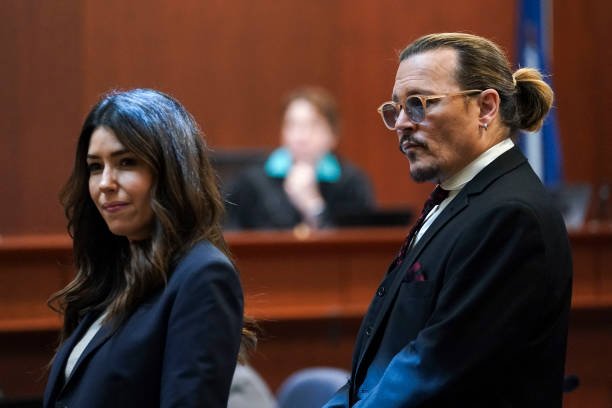 Camille Vasquez's Hola! interview
In her interview with Hola!, Depp lawyer Camille Vasquez recalled digesting the defamation trial verdict with her client, who wasn't at Fairfax County Court to hear it delivered.
"The court was very kind to provide us with a breakout room that we use for lunch and meetings," Vasquez said. "We FaceTimed him; he was so relieved, so happy, and grateful. It was nice to see him smile. A mutual friend of ours and I were speaking, and he said, 'I haven't seen Johnny smile like that in six years.' And it's true.
"There's a piece [sic] to him now that he just didn't have before. He was able to tell his story and was infinitely grateful; he was moved. We all were. I still get a bit emotional about it – to give him his life back."
(Photo: Kevin Lamarque/AFP)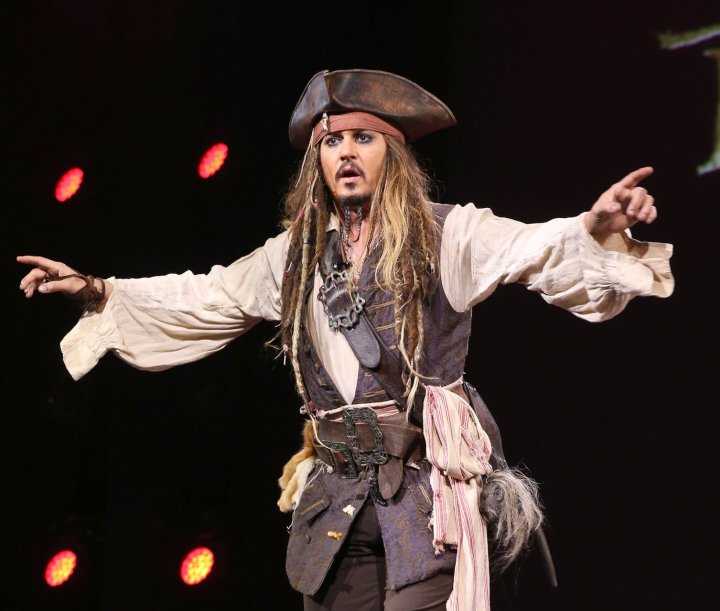 Depp representative plays down talk of $300m Disney deal
A member of Johnny Depp's camp has poured cold water on suggestions that the actor is in talks with Disney over a big-money comeback to the Pirates of the Caribbean movie franchise.
A report on PopTopic claimed Depp is working on a $300m deal to return to his role as Captain Jack Sparrow, the news site citing a source who said: "Disney is very interested in patching up their relationship with Johnny Depp."
However, a representative for Depp has told NBC News: "This is made up."
Disney offer rumour not universally popular
There has been a very mixed response to rumours that Disney has reportedly offered $301 million to Johnny Depp to return as Jack Sparrow in the 'Pirates of the Caribbean' franchise along with an apology letter.
A source told Australian pop culture gossip site Poptopic.com, that the company sent a gift basket to the actor along with a heartfelt letter. The studio has reportedly also penned a draft for a film based on Jack Sparrow and is hopeful that Depp will forgive them and return to play his iconic character. 
However, there has been no official confirmation from the actor or his team so far.
Billie Eilish laments public interest in Depp v Heard trial over abortion rights
Singer Billie Eilish has told NME of her disbelief that the overturning of Roe v Wade has had to compete for public attention with the Depp v Heard trial.
Discussing a new track of hers that makes reference to this ("The internet's gone wild watching movie stars on trial / While they're overturning Roe v Wade"), Eilish said: "I was in this state of depression, losing my own rights to my own body, and then I'd go on the internet and it would be people giving their take on this trial.
"Who fucking gives a fuck? Women are losing rights for their bodies, so why are we talking about celebrities' divorce trials? Who gives a shit? Let them figure it out on their own. The internet bothers the shit out of me sometimes…"
Tickets for Hollywood Vampires tour go on sale
Tickets for the Hollywood Vampires' European tour next summer went on sale on Monday morning. The supergroup, which Johnny Depp formed alongside Alice Cooper and Joe Perry in 2015, is to play six concerts in Germany and Luxembourg in June 2023.
Depp v Heard aftermath, live updates: welcome
Good morning and welcome to our daily live blog for Tuesday 28 June 2022, bringing you the latest news on the aftermath to the Depp v Heard defamation case.
A quick recap: a jury in Fairfax, Virginia, deemed that Heard had defamed Depp in a 2018 Washington Post op-ed in which she described herself as a "public figure representing domestic abuse", and ordered her to pay her former husband damages totalling $10.35m. Heard, meanwhile, won $2m after the jury found in her favour on one count of her counter-suit against Depp.
Both could be back on the stand next month as Heard's representatives have said they will lodge an appeal…