Daily Business Report: Thursday, Dec. 15, 2022 – San Diego Metropolitan
San Diego selected as site for 2023 Homebrew Con
San Diego has been selected as the site for the 2023 Homebrew Con, a homebrewing conference and competition featuring more than 2,000 amateur and pro brewers. The 45th annual event, put on bu the American Homebrewers Association and Brewers Associaion, will take place Jube 22-24 at the Town and Country Resort in Mission Valley. San Diego Brewers Guild Executive Director Paige McWey Acers made the announcement.
The three-day conference will consist of more than 50 speakers from the craft beer industry throughout the United States and it will encompass eight tracks: Beer Styles, Brewing Process, Homebrewing Culture, New to Homebrewing, Beyond Beer, Clubs & Competitions, Ingredients & Adjuncts, and Quality & Sensory.
 The National Homebrew Competition that will take place is the world's largest amateur homebrew competition celebrating the most outstanding beer, mead, and cider. There will be nine regional judging sites across the U.S. in the spring, including one in San Diego, that will determine which brews advance to Homebrew Con. Local homebrewers must register between January 24-31, 2023, and more information can be found here.
Port of San Diego advances Topgolf venue proposed
for East Harbor Island to environmental review
The Port of San Diego Board of Port Commissioners has voted to advance a Topgolf venue proposed for East Harbor Island to the environmental review phase. Topgolf operates golf-themed restaurant, entertainment, and party venues across the country.
Topgolf venues feature high-tech gaming, outdoor hitting bays, chef-driven menus, hand-crafted cocktails, music, corporate and social event spaces, and more. For the East Harbor Island location, Topgolf is proposing a three-story venue housing over 100 hitting bays with an event/stage area, outdoor patios, additional games and entertainment, and more. Topgolf will also contribute toward the public infrastructure around the site such as parks and promenades.
Sundt Construction awarded contract to build
STEM facility at SDSU's Imperial Valley campus 
Sundt Construction has been selected to construct the new Science, Technology, Engineering, and Math (STEM) facility at the San Diego State University (SDSU) Imperial Valley Brawley campus. Located in Imperial Valley, the project includes the construction of a 65,000-square-foot state-of-the-art facility that will house undergraduate science labs to support the university's growing academic programs. 
The new STEM building will be an expansion to the existing Brawley facility and will drive the economic and employment opportunities brought on by the development of the county's Lithium Valley project. The project has a three-year timeline and will assist the university in its plan to increase educational, research and economic development opportunities throughout the area.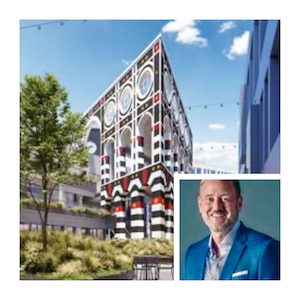 Sean Slater promoted to senior principal of RDC's San Diego office
 Design firm RDC, has promoted Sean Slater to the position of senior principal. Slater is the principal-in-charge of RDC's San Diego office, having established that office in 2019, immersing in the community where RDC has been creating architecture, interiors, and planning projects for more than 15 years. He is a member of the board of directors of RDC-S111 Inc., the parent company of RDC.  
Slater is a registered architect in numerous states and has over 25 years of practicing architecture in Los Angeles, Berkeley, Atlanta, and Austin. He has been a leader at nationally recognized firms including ELS Architecture and Urban Design, tvsdesign, and has spent five years directing his own firm. Previously, he served on the board of the Downtown Berkeley Association.  He is a graduate of the University of Texas at Austin, with a Bachelor of Architecture degree. Slater is also a member of the board of directors of the San Diego LGTB Community Center.  
One of Slater's current projects, at left in the photo, is The Campus at Horton, where he is serving as architect of record for the largest adaptive re-use development in San Diego. RDC is collaborating with design firm Rios to reinvent Horton Plaza as the ultimate 10-block, mixed re-use campus—a sustainable, high-tech hub in the heart of Downtown San Diego for Stockdale Capital Partners.
Chamber of Commerce award recognizes SDSU
leadership in fostering binational collaboration
San Diego State University last week was recognized at the 2022 International Tribute Awards for its commitment and ongoing contribution to cross-border collaboration. Presented by the San Diego Regional Chamber of Commerce, the awards honor outstanding leaders who have championed efforts to develop and strengthen diplomatic economic, cultural, educational and community ties between the U.S. and Mexico. 
Ramona Pérez, director of the Center for Latin American Studies and professor of anthropology, and Maria Keckler, director of international affairs strategy and communications and lead architect of the RE:BORDER Binational Conference, received the Cross-Border Collaboration Award on Dec. 7. Both were honored for their roles in leading collaboration with a variety of stakeholders across the border that resulted in the inauguration of the SDSU Oaxaca Center for Mesoamerican Studies in Oaxaca and four years of RE:BORDER annual conferences, which take place on both sides of the border. 
Illumina ranks among top scores on
Dow Jones Sustainability Index
Illumina Inc., a global leader in DNA sequencing and array-based technologies, announced its achievement of the highest score out of 72 companies in its industry in the S&P Global Corporate Sustainability Assessment, also known as the Dow Jones Sustainability Index (DJSI). This is the fourth consecutive year the company has been named to the prestigious list and the third year that it has led with the highest score in the Life Sciences Tools & Services Sector industry. The DJSI represents the top 10 percent of the largest 2,500 companies in the S&P Global Broad Market Index based on long-term environmental, social, and governance criteria.
Maxwell Biomedical completes
acquisition of Cardialen's Assets
Maxwell Biomedical announced that it has completed the acquisition of Cardialen's assets. Cardialen, a Minneapolis, Minn.-based company, developed MultiPulse Therapy (MPT), a low-energy defibrillation and cardioversion therapy designed to treat atrial fibrillation (Afib) and ventricular tachycardia. The Cardialen technology compliments Maxwell's proprietary Spatial Resynchronization Therapy, both of which are intended to provide safe, effective, pain-free, device-based alternatives for the long-term treatment of AFib.
Michael Robinson's bold painting on display in La Jolla
A bold contemporary painting by Oakland artist Michael Robinson takes a famous Picasso self portrait and mashes it up with a Warhol-style vibe that also cites early punk rock and jazz. Now on display at Legends Gallery of La Jolla, Robinson's acrylic on canvas original uses Picasso's famous 1907 self portrait as the focal piece for the painting. Juxtaposed to that are several panels of Picasso's 1930 painting, "The Acrobat."
Clearspeed launches Clearspeed Surge
Clearspeed, a leading provider of voice analytics technology for risk assessment in the insurance, government, and security sectors, announced the release of Clearspeed Surge. As a unique and automated way to help identify and triage risk, Clearspeed Surge helps insurers quickly and confidently process large claim volumes during catastrophic, weather-based events. Clearspeed Surge empowers operational teams to instantly determine next steps and move customers straight through to payment at such a critical time. By fast-tracking low-risk customers, Clearspeed Surge improves customer satisfaction while freeing skilled adjusters to focus on higher value claims.
Carlsbad's Airspace CTO wins the
Michael R. Saul CTO of the Year award
The Michael R. Saul CTO of the Year award has been presented to Ryan Rusnak, chief technology officer at Carlsbad-based Airspace. Rusnak has been recognized for extraordinary leadership and his tremendous impact in all aspects of the business including the company's remarkable growth, profitability, functionality and competitiveness in the marketplace. The award honors chief technology officers whose innovation and forward-thinking is a driver for their company's growth and whose leadership and presence is impacting the CTO community.
Parade of Lights to light up San Diego Bay Dec. 18
The 52nd annual San Diego Bay Parade of Lights will take place Sunday, Dec. 18, 2022. Approximately 80 vessels will take part in the parade, each decked out with lights and festive decorations that spotlight this year's parade theme, "FantaSEA." The action starts at 5:30 p.m. at Shelter Island. The route proceeds to Harbor Island, the North and South Embarcadero areas, Cesar Chavez Park Pier, and ends at the Ferry Landing in Coronado. The entire procession takes about two hours.
New University Heights restaurant to open
in space of long-shuttered Small Bar
When restaurateur John Pani was forced to close his North Park restaurant Waypoint Public following the financial devastation wrought by the early months of the pandemic, it was a gut-wrenching decision. But the pain has since eased — so much so that that he is spending $3.5 million to open up a new restaurant in a spot where another casualty of COVID, Small Bar, once stood. Expected to make its debut next month, the 3,500-square-foot indoor-outdoor restaurant in University Heights known as Johnston's takes inspiration for its name and design from a chance discovery during demolition — an old weathered sign, Johnston's Variety Dept. Store, buried under layers of decades-old stucco.