Daily Business Report: Friday, March 25, 2022 – San Diego Metropolitan
Governor makes his offer on gas tax rebate
Newsom proposes $11 billion in a California tax rebate to offset high gas prices, i
ncluding $400 debit cards per vehicle. He must negotiate a final deal with the Legislature
By Alexei Koseff | CalMatters
Gov. Gavin Newsom wants to send California drivers as much as $800 each and encourage public transit systems to offer free rides, the latest proposal from state policymakers seeking to offset the soaring cost of gasoline and other goods for struggling residents.
Newsom first floated the idea of a gas rebate earlier this month during his annual State of the State address, but details of his approach were slow to emerge, giving legislators time to surface several plans of their own. The governor's Republican opponents have become increasingly critical of the lack of progress during the weeks since his announcement.
Under Newsom's proposal unveiled Wednesday, California would send registered vehicle owners $400 debit cards, limited to two rebates per person. Those would likely arrive starting in July, after the state adopted a budget for the upcoming fiscal year. The governor's office estimates the rebate would cost about $9 billion.
---
Gas money: Is it better to send out checks or suspend a tax?
By Grace Gedye | CalMatters
California is flush with cash — the state has an estimated budget surplus of $21 billion —and, separately, gas prices are way up. Those two facts combined have lawmakers tripping over themselves with spending proposals to help people with rising costs.
Last week, a cohort of Assemblymembers proposed giving every California taxpayer $400 to offset new, higher prices for goods and especially gas. A few days later, the Los Angeles Times reported details of another proposal, this one from Democratic leaders in the Legislature: $200 to each taxpayer, plus $200 for each kid for families making up to $250,000, and a grant program with the same benefits for people who don't file income taxes. 
The plans to send cash to Californians directly come on the heels of Republican calls to temporarily suspend the state's gas tax of roughly 51 cents per gallon in its entirety and a proposal from the governor in January to pause a planned 3-cent increase in the state gas tax. Both approaches to reducing the gas tax predate the war in Ukraine, which has driven gas prices even higher. 
Lawmakers want to do something in response to the higher gas prices. What remains to be negotiated is who gets how much, and how exactly they get it. 
---
Sanford Burnham Prebys and Roivant Social
Ventures announce groundbreaking partnership
Roivant Social Ventures, a nonprofit philanthropic social impact organization launched by Roivant Sciences, today announced a major collaboration with Sanford Burnham Prebys, San Diego's prestigious medical discovery institute. The groundbreaking initiative is designed to eliminate barriers to opportunity in the biopharma industry and expand inclusive access to healthcare. The initiative directly addresses three historic challenges:
• The lack of diversity in biopharma leadership, clinical trial principal investigators and clinical trial patients;
• The mismatch between advanced degree programs and the drug development and leadership skills needed to succeed in the biopharma industry; and
• The large number of "shelved drugs" that are deprioritized during portfolio optimization efforts but which hold promising therapeutic value for underserved patient populations and unmet medical needs.
Unveiled today, the first-of-its-kind, real-world training program aims to accelerate therapeutic innovation by prioritizing unmet medical needs, engaging underserved populations, and training students from diverse backgrounds
---
Point Loma photographer named 
NAPCP's 'Photographer of the Year'
by sdnews.com
Point Loma resident, Kim Belverud, was recently honored by the National Association of Professional Child Photographers (NAPCP) with the prestigious title of Photographer of the Year for 2021.
Belverud is the owner and creative artist behind Kim Belverud Photography LLC. She specializes in lifestyle family, couples, and maternity photography. Nearly all of her sessions are set outdoors at beaches, parks, and fields around the county. Belverud aims to capture authentic connections between the families that come in front of her lens.
Belverud received a phone call from the NAPCP co-founder, Alice Park, who let her know the news personally. 
"I'm thrilled to have been selected for such a distinct honor. I feel incredibly grateful for this achievement and the support I've had in my business journey to get to this point," she said.
Coming from the software industry where she worked as a quality assurance tester for 17 years, she started her business and made the switch to a full-time photographer in 2017.
---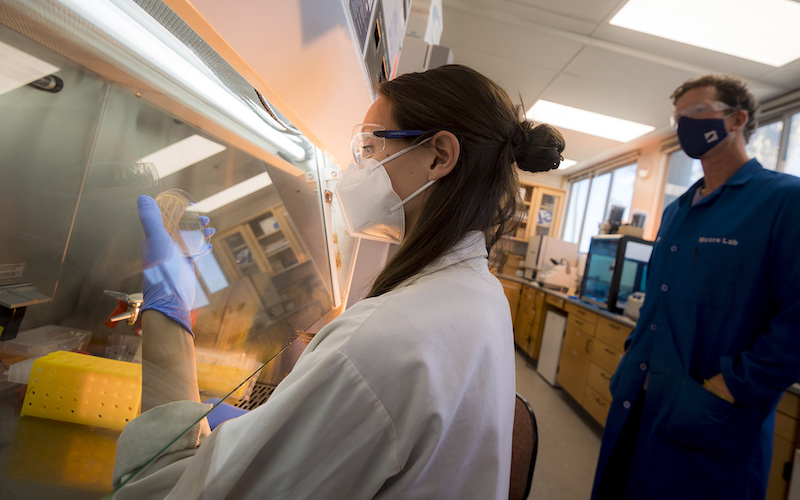 Scientists discover how molecules 
become anticancer weapon
By Steve Koppes
Years of toil in the laboratory have revealed how a marine bacterium makes a potent anti-cancer molecule.
The anti-cancer molecule salinosporamide A, also called Marizomib, is in Phase III clinical trials to treat glioblastoma, a brain cancer. Scientists now for the first time understand the enzyme-driven process that activates the molecule.
Researchers at UC San Diego's Scripps Institution of Oceanography found that an enzyme called SalC assembles what the team calls the salinosporamide anti-cancer "warhead." Scripps graduate student Katherine Bauman is the lead author of a paper that explains the assembly process in the March 21 issue of Nature Chemical Biology.
The work solves a nearly 20-year riddle about how the marine bacterium makes the warhead that is unique to the salinosporamide molecule and opens the door to future biotechnology to manufacture new anti-cancer agents.
---
Salk scientist Tony Hunter receives 2022 AACR 
Lifetime Achievement Award in cancer research
Salk Institute Professor Tony Hunter will receive the 2022 American Association for Cancer Research (AACR) Award for Lifetime Achievement in Cancer Research at the April annual meeting of AACR, the largest cancer research organization in the world dedicated to preventing and curing all cancers.
This major award is a significant recognition of Hunter's contributions to cancer research, which have led to the development of the highly effective leukemia drug GleevecTM.
Hunter, who is an American Cancer Society Professor and holds the Renato Dulbecco Chair, studies the molecular basis of normal cell growth control and cell cycle regulation, and what happens when these processes are disrupted—such as occurs in tumors. 
He is widely known for his 1979 discovery of a molecular switch called tyrosine phosphorylation that, when flipped on permanently, can trigger cancer cell proliferation by adding phosphate to the amino acid tyrosine in proteins in an uncontrolled manner. This discovery launched an entirely new field of research and has led to a new class of anti-cancer drugs known as tyrosine kinase inhibitors.
Hunter has been a member of Salk's faculty since 1975. Throughout his tenure, he has received numerous awards for his pioneering cancer research
---
Mindpath Health acquires Psychiatric Centers at San Diego
Mindpath Health, a provider of outpatient mental health services, announced its further expansion in its flagship state of California with the acquisition of Psychiatric Centers at San Diego, San Diego's largest mental health practice. 
The strategic acquisition adds another eight locations and 124 providers in the greater San Diego area to the Mindpath Health family, increasing access to care in San Diego proper, as well as Chula Vista, Escondido, La Mesa, and San Marcos. 
The purchase of Psychiatric Centers expands Mindpath's California offerings of autism therapy (such as applied behavioral analysis), transcranial magnetic stimulation (TMS) therapy, along with adding other key behavioral health services including a Child & Adolescent Center.
---
Viasat, Inmarsat reach deal with UK Government
Carlsbad-based Viasat and Inmarsat, the U.S. and UK satellite communications groups, have agreed on a package of legally-binding economic undertakings with the UK Government's Department for Business, Energy and Industrial Strategy (BEIS) as part of the proposed combination of the two companies. BEIS welcomed the constructive discussions that have taken place with both companies on their future plans. The transaction remains subject to the regulatory processes of the UK.
"We are fully committed to ensuring that our combination with Inmarsat supports the UK's National Space Strategy with additional investment and job creation," said Rick Baldridge, president and CEO of Viasat. "I am confident that together we can build upon the UK's space agenda and help propel the country to the forefront of the global space race."
Rajeev Suri, Inmarsat CEO, added: "With this agreement, the combination of Inmarsat and Viasat will result in more highly-skilled jobs and R&D investment in the UK than Inmarsat could achieve on a standalone basis. This milestone is a great step for the UK and while they certainly have challenged us to put our best foot forward, I am delighted they have accepted our economic Deed of Undertakings."
---
Guild Mortgage earns fifth rewards
performer recognition from Fannie Mae
Guild Mortgage has earned its fifth consecutive Servicer Total Achievement and Rewards performer recognition from Fannie Mae.
Guild received recognition in the Solution Delivery category for the 2021 STAR Program year, earning the distinction for the first time in this category covering loss mitigation operations, retention and liquidation. Throughout Guild's five years as a selected STAR Servicer, Fannie Mae has recognized the company in the General Servicing category four times.
---
San Diego students win prize in C-SPAN
video documentary competition
 C-SPAN announced that Isabella Brown and Noel Allen, students at Correia Middle School in San Diego, are honorable mention prize winners in C-SPAN's national 2022 StudentCam competition. Brown and Allen will receive $250 for the documentary, "Monumental Impact," about the Antiquities Act. 
 The competition, now in its 18th year, invited all middle and high school students to enter by producing a short documentary. C-SPAN, in cooperation with its cable television partners, asked students to explore a federal policy or program and address the theme: "How does the federal government impact your life?"
In response, more than 3,000 students across the country participated in the contest. C-SPAN received over 1,400 entries from 41 states, Washington, D.C., Morocco and South Korea. The most popular topics addressed were: 
Environment & Pollution (10 percent)
Health Care & Mental Health (9 percent)
COVID-19 & Recovery (7 percent)
Immigration (5 percent)
2nd Amendment & Firearm Legislation (4 percent)
---
New screening tool IDs 95 percent
of Stage 1 pancreatic cancer
A novel screening platform has flagged more than 95 percent of stage 1 pancreatic cancers, according to a pilot study published in Nature Communications Medicine.
If validated by future studies, the approach offers a new way to detect the third-leading cause of U.S. cancer deaths in 2020.
The study of 139 stage 1 and 2 cancer patients and 184 controls is the first clinical test of a platform technology called high-conductance di-electrophoresis, developed at Moores Cancer Center at UC San Diego Health 12 years ago. It detects extracellular vesicles (EVs), which contain tumor proteins that are released into circulation by cancer cells as part of a poorly understood intercellular communication network. Artificial intelligence-enabled protein marker analysis is then used to predict the likelihood of malignancy.